Roof Cleaning & Roof Treatment
Moss, lichen, grime, and dirt can damage the condition of your roof and cause leaks. Backed by over 35 years of experience and expertise, we know the importance of maintaining a clean roof. Using thorough and non-invasive cleaning techniques, we deep clean all types of domestic and commercial roofs throughout Greater Auckland. This includes roof moss removal treatments.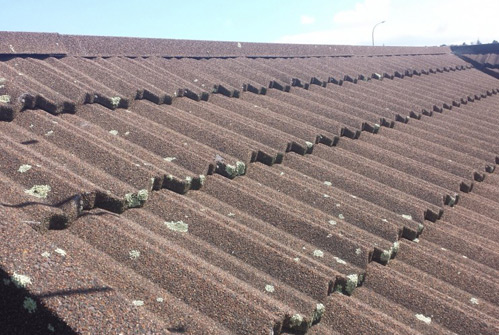 Bio Clean Lichen and Moss Treatment
Bio Clean is an environmentally-friendly exterior cleaner used to remove moss, lichen, algae, fungi, mould and mildew. It deeply penetrates the surface and continues to work over time to protect all roof types, making it an extremely efficient roof treatment.
We recommend a roof moss treatment be applied every 2-3 years to keep your roof looking great and functioning as it should, and for roof leak protection.
Bio Clean is non-chlorinated, biodegradable and will not harm plants or animals.
Pressure Washing for Iron Roofs
From dirty to spotless in an hour or so; our pressure-wash system for iron roofs is quick and effective. Using high-pressure water, we will wash and rinse your entire iron roof, and clean out your gutters. This will get rid of all moss, lichens, leaves, and mould from your roof leaving it looking great.
And, if we find any issues such as rust spots, we can give you an instant repair quote.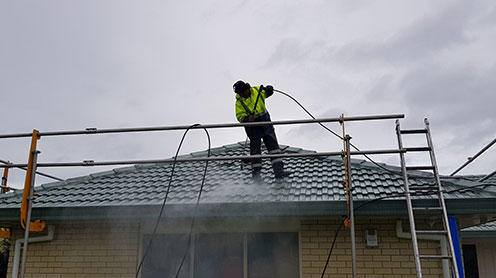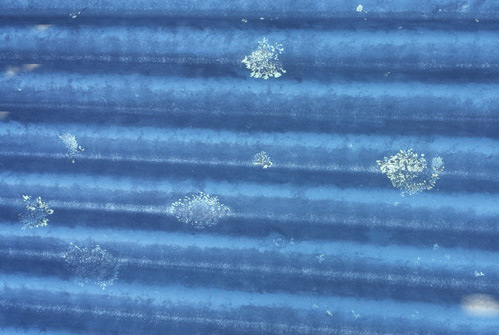 Can Moss and Lichen Damage my Roof?
A few spots of lichen or moss on your roof looks unsightly but probably doesn't do too much damage, right? Wrong! Damage caused by lichen and moss is one of the most common roofing issues we are called out to fix.
Lichen in particular, when established, will do severe damage to Colorsteel or stone-chipped (Decramastic) roofs. Lichen is a growing plant that will root into the colour coating of your roof and strip it bare leaving the bare iron of your roof exposed to the elements and corrosion.
On concrete tile roofs, moss and lichen growth will open cracks in mortar work and block water channels causing leaks, leading to costly repairs.
We recommend regular roof cleaning, including a moss treatment be every 2-3 years. That way you can be assured your roof is giving your home or business the protection it should.